Discover more from Rule of Five
How to get through the year only buying 5 new fashion items. It can be done! At least, we're trying
Renting: how do I start?
It's not the silver bullet, but it's one very useful weapon in your fashion armour
Congratulations, it's the end of March, Fivers, which means we are already one quarter of the way through the year! If you are on target with your five items, I hope you are beginning to feel good, rather than deprived. An unexpected pleasure of this campaign is the thrill from shopping more conisderately, from choosing your items carefully (and enjoying them enormously once they appear). I really hope you're feeling this.
I am also beginning to build the habit of not buying on impulse. I went to a Cercle pop up the other day where they had the most glorious pair of preloved Isabel Marant boots, which I did not purchase on the spot. Instead I have given myself a week to cool off and told myself if I really still want them by the end of next week I can have them. (I am allowing myself 4 preloved items as well as 5 new this year.)
If you have fallen off the wagon, please don't worry. You can just reset: try and get through April without buying anything and then see how it feels to be 'clean' after a month.
For this bulletin I want to to talk about rental. I'm going to cover the issues below, but here, up top, is a list of places to try.
---
The Rule of 5 rental platforms
Rent the Runway The market leader, currently operating only in the US, but worth a browse as the storytelling is great, and the edits are well put together.
By Rotation As much a social sharing app as a rental platform, the idea is you can follow your favourite influencers and rent their wardrobes in the process. UK based, but just launched in New York. Amelia Windsor, Stacey Dooley and Dina Asher Smith are all fans.
Hurr With a pop up in Selfridges, and past collections from niche designers like Bethany Williams, Hurr is a good option for the hunt for something special.
My Wardrobe HQ You can visit them in Harrods. Great for party pieces and now launching a monthly subscription service.
Cocoon Club Solving the bag issue. I have rented Saint Laurent, Bottega and Loewe arm candy from this platform, and no one was any the wiser! Also offering monthly subscriptions. See previous bulletin here.
Cercle For a highly curated, premium luxury take on rental. Founder Coco and renowned personal shoppers are on hand for styling advice.
Rotaro A more limited collection but some nice, esoteric fashion pieces, definitely worth checking out.
---
So many of us haven't even tried yet, but I assure you, popping your rental cherry is worth it. All those squeamish ideas about wearing a stranger's clothes, the potential hassle, the worry about damage, they all disappear once you give it a try. And if you have a summer season of weddings, parties and events coming up, it's a no brainer.
But first the environmental bit. Is it really a greener option? The problem with rental is the piece needs to be dry cleaned every time you return it, and the travel involved in circulating the rental piece can be punishing. In fact this Finnish study suggested that when it came to jeans, it wasn't worth the trouble. However, jeans seem to be the least likely candidate for rental (because we are likely to wear them a lot should we own them, and ideally they would last a long time in our wardrobes).
What's also hurting the marketplace is the influx of overproduced stock. Brands are dumping unsold collections on rental and resale sites and without a curatorial eye, these unwanted items are clogging up the feeds. There was a reason they didn't sell in the first place, but too often these platforms are desperate for new stock so are taking huge amounts of overproduced items without an aggressive enough edit. If this doesn't right itself, brands will continue to overproduce knowing rental and resale will solve their circularity problems. What we want is less items in circulation, of a higher quality.
However, here's the good news. Rent the Runway, (RTR), the big US market leader for luxury rental, engaged a third party to measure their Life Cycle Assessment, over 9 years of trading. Their report found RTR had prevented 1.3m clothes going to landfill (by replacing purchases with 'hires'), and taking into account RTR's entire footprint including transport, cleaning and end of life, found each rental created significant environmental savings. Each transaction, they calculated, resulted in a net 24% reduction in water usage, 6% reduction in kilowatt-hours (kWh) of energy usage, and 3% reduction in pounds of CO2 emissions.
This is convincing enough for me, although as with the attitude to pre-loved, you don't want to go mad with rental, as every rent costs something. Use it judiciously and where appropriate. Frankly, if it's going to stop you buying something - that's a win.
I first tried rental in September 2021. We threw a Cinderella ball for our Agora fashion boutique at Six Senses Ibiza, with the aim of proving that, given the opportunity, people would rent. We had tried to persuade luxury brands to give us the evening wear collections they had produced during the pandemic for our store's 'Cinderella' (one night only) rail, as after all, in Ibiza, there is always a party. After initial enthusiasm however, they all backed off. They couldn't quite get their heads around the business model. Not to be deterred, we partnered with the UK's My Wardrobe HQ to prove otherwise. Their team brought out a glorious collection of their most fabulous evening wear, and we included the cost of renting in the ticket price. Every single guest rented, (we had plenty of tuxedos and kaftans for the men) and the ball was a well dressed riot.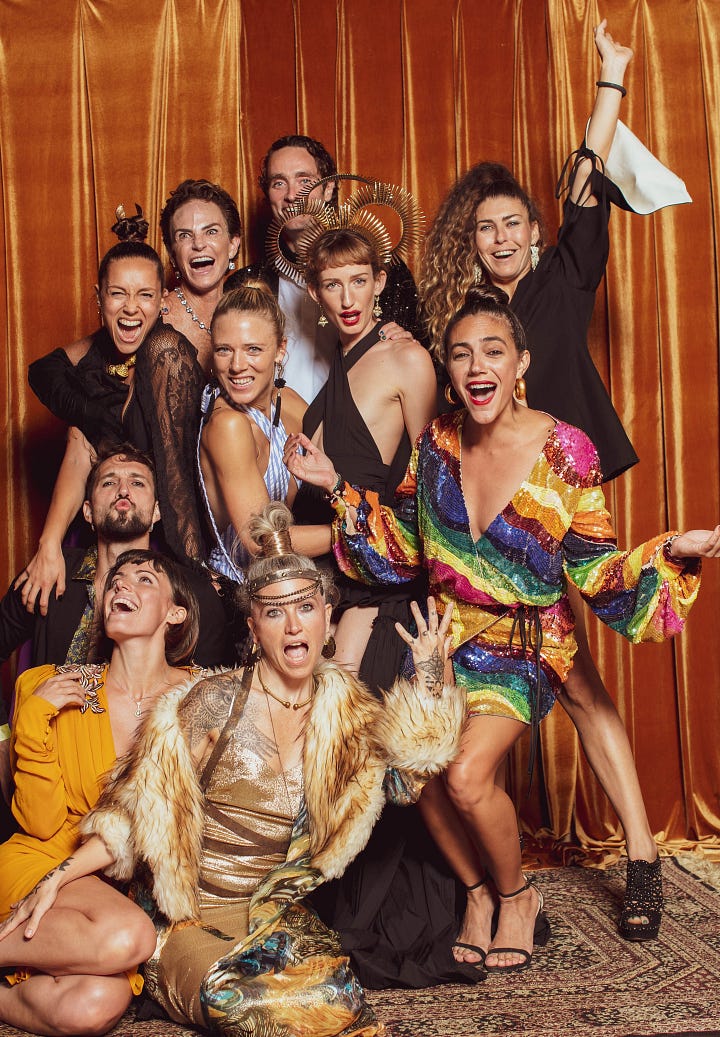 Evening wear then, is a no brainer. But what I hadn't tried until earlier this year, was renting for day wear. My Wardrobe HQ have since extended their service, and now offer monthly subscription services. For a month, you can rent 2 items (£59) or 4 (£79 for the first month, then £99pcm after that). For February, I gave it a try. I popped down to Harrods, where My Wardrobe HQ have a corner, to see what I could find. A caveat: there is not a great deal of range on offer at the moment (it's not like you have the rental selection of an entire department store). What I discovered was that it absolutely makes sense for coats. I rented a gloriously warm flying jacket from Freed, a fake fur and lace number from Shrimps, and a long belted overcoat from Amanda Wakeley. The joy of four new coats during one of the coldest months! But also, given that each item was extremely bulky, of handing them back at the end of the rental period and not worrying about them taking up space in my wardrobe for the spring and summer. By switching out your coat wardrobe every year, you're never going to get bored of wearing the same thing every day.
Now, if you are looking for something more special, I have just the perfect recommendation. Cercle is a UK based rental outfit founded by the incredibly chic and somewhat exotic Coco Baraer Panazza. The daughter of a long line of French-Italian seamstresses, fashion lovers, and bon vivants, Coco became weary of the fashion industry after several years of working in wholesale in Beijing, New York, and London. Her nomadic life (and fabulous social network) meant she was always borrowing from friends and wondered if the idea of a highly curated wardrobe of unique and treasured pieces, would be of interest to others. And so Cercle was born.
To be part of Cercle's customer base, you must become a member (it's free) and then excitingly, if you have enough in your wardrobe to donate to merit a visit, you may well get Coco herself coming round to help you edit. She will take away anything you would like to offer to rent, whilst the rest of the wardrobe is opened up to you. Some of her pieces are for sale (this is where those red boots come in) but most is true vintage, and available for rent.
You can read more about Cercle and Coco in my It's Not Sustainable newsletter tomorrow. In the meantime, have a browse of the rental platforms. Competition will heat up for those premium Saturdays this summer, so if you spot something you love, make sure you reserve it well in advance.
And don't forget, you can also rent out your own wardrobe too.
Enjoying rule of 5? Why not try following It's Not Sustainable, the newsletter that celebrates the fashion industry's moves to a more sustainable future.